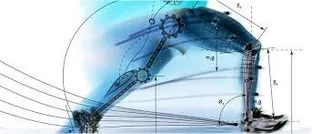 The field of medical technology called biomechanics is a highly technical branch of medical engineering that studies human motion and help determine limits of normality and abnormality. Podiatrist trained in biomechanics can examine you for biomechanical faults of the feet and legs. From this examination a diagnosis and plan of treatment can be determined
How Your Feet Function:
Your foot is made up of 26 bones that function first as a mobile adapter, then as a shock absorber for the rest of the body. During the mobile adapter phase of gait, the foot is a "loose bag of bones" that can be placed on any surface and still maintain the equilibrium of your leg and body above. As adaptable as your foot's structure must be, it must also be capable of locking itself into a rigid structure so that it can act as lever, first to stabilize and lift your body's weight and then to propel it forward
The timing of your gait is as important as the foot's structure. When timing is off, the body's weight and stress enter the foot at a time when it is not prepared to receive it. This results in an unstable foot that has bones moving in abnormal direction through abnormal ranges of motion.
Over the years if your foot biomechanics is improper it will lead to permanent irreversible damage to the skeletal system.
Unaware of these slow adaptations that occur over the years, most people tend to ignore their feet until they are in pain. Then they will seek the advice of a Podiatrist who will work towards relieving symptoms and correcting their condition
Correction of Foot Function with Biomechanical Orthotic Devices
Often, as part of biomechanical treatment, an orthotic device is custom-made for the patient. These prescription devices create more normal foot function of the feet and legs by maintaining the anatomical angular relationships between the segments of each foot and leg. Components called control posts(extrinsic or intrinsic), added to the front, rear or both ends, are ground to specific angles. This action controls abnormal motion and eliminates the jarring effect commonly associated with conventional arch supports. A truly biomechanically-designed orthotic device will decrease or eliminate foot symptoms as well as preventing them.
Beginning Biomechanical Treatment

A Podiatrist will perform a gait analysis to study the way your foot functions while walking and standing. A complete history and physical examination of the foot including joint range of motion studies to determine where the foot imbalance exist. After all the measurements have been calibrated, how much correction is established to a precise degree. The feet are cast in neutral subtalar joint position non weight-bearing. Each foot is placed in its correct position so that the orthotic device will be molded to your foot, while maintaining proper alignment during walking or running. The cast is sent to a specialized laboratory for fabrication.
If you are experiencing persistent foot discomfort, the origin may be biomechanical in nature, in which case, an orthotic device may be helpful.
Customized Orthotic Designed For Your Feet